My thimble Collection
Welcome to my homepage
Hello everyone! My name is Ana and, as you might have already guessed, I am an enthusiast of thimble-collecting.
It is not long ago since I became a serious thimble collector; nevertheless I have always liked thimbles. Every time that I visited a town or a monument, I bought some, because each of them seemed to be a beautiful little keepsake of the places I had been to. But it never occurred to me that I could collect them. Well, it was so until very recently.
I enjoy collecting thimbles more and more. My friends and relatives brought me thimbles from their travels, and little by little I became interested in them. Now it is I who reminds them to bring them for me!
Here from this Web-site I would like to thank everyone who thought of me and everyone with whom I have exchanged collectible thimbles: they are very many and I have struck up a friendship with many of them.
I was told that the Internet was a very good way of getting in touch with other collectors, and this turned out to be true. My collection has grown very much lately, and I would like that all the world could see it. I have therefore created this Web Site, so that all of you could see my collection; at the same time I would like it to be a means for facilitating the exchange of thimbles between you and me, or as a matter of fact between yourselves; for those interested I have specially devised the Collectors' Corner.
I hope you find this web site of your liking. If you want to make any comment or suggestion, all you have to do is to write to the E-mail address below.
Best wishes from
Anna
Web site created: 15/10/2003
To date 3.834 thimbles 30-06-2022
Take a look at my Thimble Collection: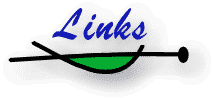 If you want to e-mail me click here:


Read Guest Book Sign in the Guest Book
El tiempo en España, Cataluña y Barcelona
Hacer Clic el el sol
Preciosos dedales enviados por Covaro, de Gijón. Muchas gracias
Bonito dedal pintado a mano por Amparo Tortajada. Muchas Gracias Amparo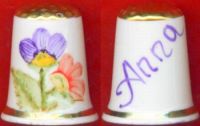 Muchas Gracias María por este dedal que has hecho tan bonito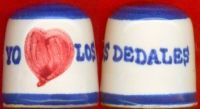 Regalo de Esperanza
Dedal del Primer Aniversario 2016-2017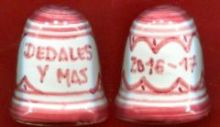 You are the visiton number: since January 2006